Give Your Kids Healthy Instant Snacks.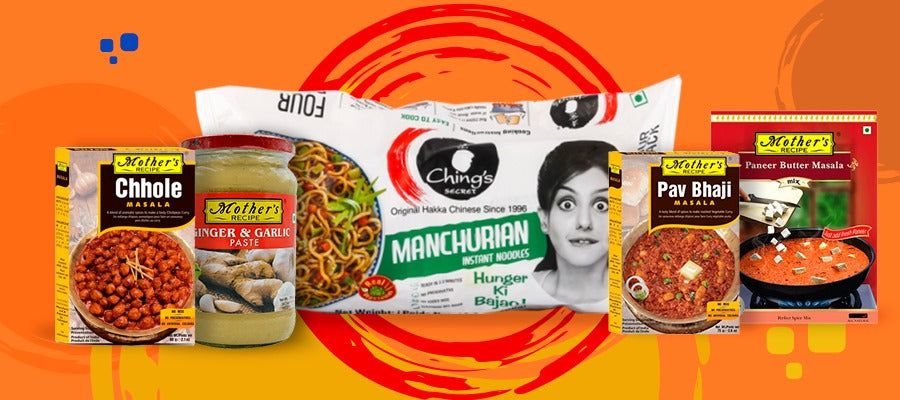 Could instant snacks be healthy yet palatable? Why not? With more and more people working two jobs or getting busy, they have no option but to eat out or buy to-go grabs. Also, with classes being shifted online, many kids have formed a habit of snacking at odd times. Such a culture saves you time but it ends up taking a toll on your health over time.
So what can you do instead? 
Several companies have come up with awesome healthy snacks and instant premixes for you to have. Such a thing can go a long way in a fast culture. You can expect to find some instant food products ideas that probably went unnoticed. 
Let's start?


1. South Indian premix
When it comes to healthy yet light meals, rice-based foods are a choice. There are multiple options available in south Indian delicacy. You can find healthful instant food packets like Idli, Dosa, Upma and appam pancakes. These are undoubtedly nutritious options in comparison to fast food.
2. North Indian curries mix
Not only are there south Indian quick fixes, but there is a plethora of instant north Indian vegetables as well as meat curries available ready-to-eat. 
Food brands have evolved and come up with several alternatives like mutter paneer, veg kadai and many more vegetarian. Not just that, there are so many non-veg pre-made foods like chicken curry and so on hitting shelves. The ingredients of the packet just need to be added in boiled water and voila!
Although these are scrumptious to the palate, they might not be nutritionally as dense as home-cooked meals. You can check out and buy them online at grocery stores like Buniyaa.
3. Pre Cooked quinoa 
As if the above-mentioned dishes were not enough, you can enjoy ready-made wholesome quinoa as well. It is mixed with spices and salt when precooked. It gets ready when added to hot water. Instant quinoa is not just tasty, but also a nutrition-dense food that is a perfect choice for fitness-conscious individuals. 
4. Multi-grain noodles
Not just any noodles but you now have a choice for health swaps. Multi-grain noodles are filling and a healthy choice over conventional refined flour noodles. Millet, sorghum, wholewheat and few other whole grains are used for multiple grain noodles. It is a perfect choice for snacking for kids as well. If you are someone who runs short on time, you can buy instant food products online and save yourself some time and effort.
Apart from these noodles, there are soya noodles available which are super-rich in protein making it an ideal supper.
5. Zucchini pasta
Yet another healthy alternative for instant pasta. These are readily available with a spice-mix sachet. Great swap for people with diabetes too since they are low in carbohydrates. Because these are vegan and do not contain flour, you might not want to overcook as they get soggy. An amazing instant food product for individuals who are on the run and also want to eliminate grains.
6. Millet pancakes
Although whole multi-grain pancakes are a thing, millet pancakes are in fashion. Such an instantaneous mixture is popular among dessert lovers. While everyone is getting health-centric these days, you should opt for such healthful desserts too. The food has been a hit among people on a keto diet.
7. Instant dessert mix 
Apart from millet pancakes, there are lots of Indian dessert premixes that are delectable and popular among Indians in the US. Relishes like gulab jamun, ras malai, kheer and several others can be found on Indian online stores including Buniyaa. 
8. Frozen veggies
For office-going youngsters, it is not as simple to buy fresh veggies on a daily basis. This is where frozen vegetables and canned beans come in. They lose their taste but the nutrients get preserved. These are not exactly instant foods but they cut a great deal of energy which has gone into chopping and keeping them fresh. Besides, canned beans are a sort of make-do food since they have to be soaked and sprouted when prepared at home. 
9. Soups
Soups are popular appetizers and a supper preference for many. Many FMCG brands have launched tasty instant soups. They come in a variety of flavors with choices for both vegetarians as well as meat lovers. 
Now that you have several ideas about awesome instant foods, you can give your children a boost of health with every supper or a quick brunch. There are over a hundred varieties to choose from and so many awesome options are hitting racks at grocery stores.
If you belong to a group that does not want to go walk and grab their snacks from a store, the Indian online grocery store buniyaa is just a click away. They have plenty of Indian as well as continental Instant food products to choose from.