Reasons Why You Must Buy Patanjali Products Online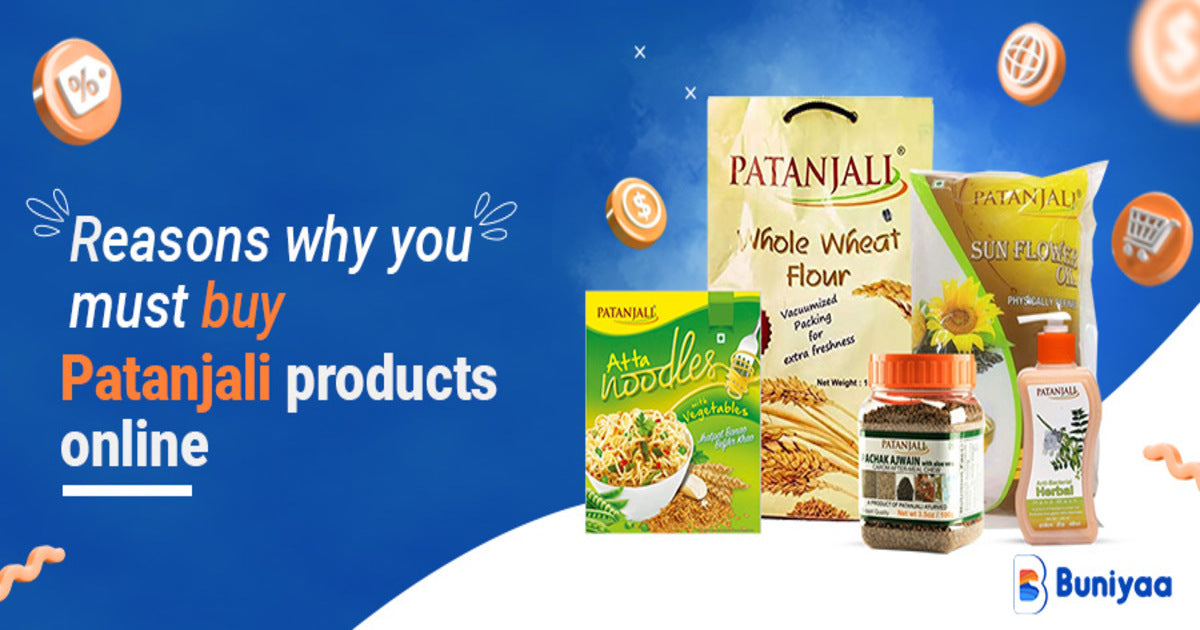 Patanjali is an Indian-origin brand that manufactures and sells purely polyherbal as well as herbomineral products. They make and produce an extensive range of items from natural health care to food as well as personal care products.  Let us have a look at some of their popular products and the reasons you should be stocking on Patanjali more often. You can also buy Patanjali products online in the US from online pantries including buniyaa.com or through Patanjali stores across Indian subcontinent. 
Aloe vera juice 
Aloe vera has been used for its healing medicinal properties since ancient times. Everyone knows about it for its dermatologic as well as beauty benefits. However, aloe vera is packed with micronutrients which enhances your gut health. The main reason why Patanjali's aloe vera juice stands out is that it has been blended in a way to retain natural fibers which improve abdominal function. Apart from this, it consists of antioxidants like flavonoids and phytochemicals such as saponin which boosts overall cell function. 
Patanjali amla juice
Popularly known for its bolstering vitamin C doses, Amla juice has certain other properties that only betters your respiratory and intestinal health. Since it reduces mucous secretion, amla juice aids in several respiratory illnesses of both acute and chronic nature. Also acting as a blood purifier, Patanjali amla juice is a total package to reap many health benefits and you can check it out at buniyaa.com right away.
Patanjali navratna atta
Made from nine different whole grains, this is for those of you who would love to swap your regular wheat flour with a better alternative and goodness of nine grains. Navratna Atta is made by combining flours such as barley, corn, gram, soybean, wheat, millet, amaranth, caltrop and sorghum. Such blend is rich in fibers along with high glycemic index which makes it an easy alternative for diabetics. And what can be easier than finding Patanjali navratna atta on buniyaa.com 
Cow ghee
For people constantly looking to avoid bad cholesterol, this is nothing less than a gift from heaven for you. Ghee is better than butter because of its null lactose content which makes it an ideal choice for lactose intolerants. Packed with antioxidants and good fats, Ghee relieves abdominal congestion and nourishes your arteries. In fact, Desi ghee is not that hard to find with buniyaa.com which is one of the largest Indian online grocery stores in the US.
Patanjali Honey
Since Indian households have emphasized on home remedies, Honey has been somewhere on the top of their list. Consumption of honey is said to lower mucous secretion and hence, cough. It has been utilized in home-based skincare as well. More and more people are consuming it with lukewarm water these days to shed some pounds. Thankfully, Patanjali Honey is hitting shelves in the US as well. This means Indians in the US will be able to enjoy the homely taste of Honey available at buniyaa.com 
Patanjali beauty products 
One of the prime reasons Patanjali as a brand is excelling is due to its inclusion of a vast range of herbal beauty products. They have launched an extensive range of hair care products including kesh Kanti shampoos and hair oil. Besides Patanjali makes body soaps, gels as well as hand wash. As most people want their skincare to be chemical-free, it gives Patanjali an edge over the other brands.
Patanjali atta noodles
Another reason for Patanjali's lucrative market is their share in production of healthy snacks. It has gained immense popularity with wheat biscuits and noodles. There are numbers of flavors to choose from such as chatpata, veggie, desi masala noodles and many more. Furthermore, there are several other snacking items to munch on like soybean chips, moong dal and a number of other Indian snacks. 
Patanjali porridge
With quite a meticulous study on Indian market and Indian families, Patanjali has launched products that are just the right fit. It has further come up with multigrain porridge along with oats porridge which makes up for a scrumptious instant breakfast. Since the grains used are refined in least possible proportions, it is filling with high glycemic index further keeping cholesterol levels in check. It has also brought forward corn flake muesli as another wholesome breakfast alternative. 
Patanjali has been an outstanding brand as a whole since it has done a detailed research on customer's demands and needs. This brings it one-upmanship over its competitors. Most of its raw materials are grown on their farmlands which ensures utmost grip over quality of its produce. With its eye on Indian marketplace all products are made available at reasonable prices which proves to be budget-friendly.
With that being said, such home-grown brand products are rarely available in the US market but this has been made possible with Patanjali hitting shelves at buniyaa. check out more of Patanjali's bestsellers at Online Indian Grocery Store.