Buy GITS Ready to Eat Products Online in the USA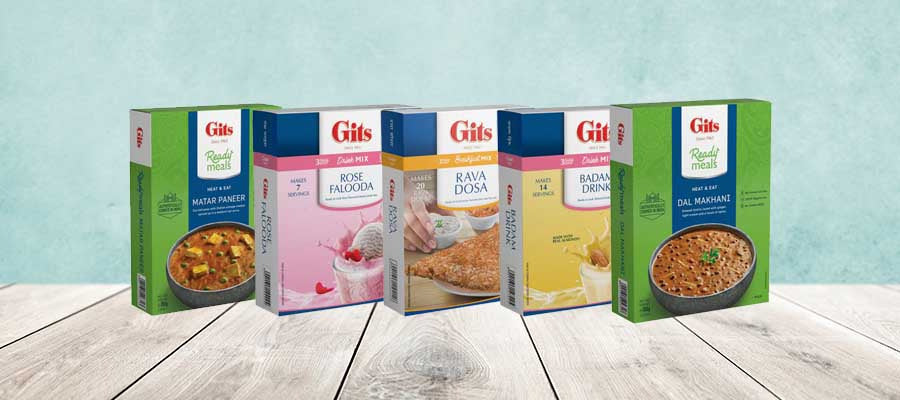 Are you wondering why people are getting an inclination toward ready-to-eat meals instead of cooking their meals for hours? It is because everyone wants to save time for themselves and wants something that kicks off their hunger at the earliest. The youth, as well as the adults, have now been much interested in ready-to-cook meals. This blog is all about GITS ready-to-eat products. It will include what are the different types of ready-to-eat products, the ingredients it contains, and the directions for cooking them. This blog is going to be highly informative, so read till the end without missing out on any of the details. 
 About GITS 
GITS food products private limited is a company established in the year 1963, that deals with the production of instant food, ready-to-eat food, etc. It has its headquarters in Mumbai city. GITS products are very tasty and recognised in India and many other countries due to their vast production and distribution worldwide. It made the lives of people easier because all the spices and ingredients are mixed, packed and sent out for distribution. People get to eat their favourite food in a few minutes just by mixing it all. It is high in demand and people are most likely to buy GITS ready-to-eat products online in the USA. 
GITS ready-to-eat products are available on Buniyaa
Buniyaa is a small eCommerce family business website that makes all the Indian groceries and products available to the Indian population living in the USA. People miss the Indian taste, the Indian touch and this is one of the goals of our company, to make everything available to them that gives them a feeling of home. You will no longer have to wait to cook your favourite food and exhaust yourself by going to the marketplace to buy the groceries because now everything will be delivered to your doorstep without any hassle. The delivery is done by keeping in view all the safety measures and safe payment methods, so no kind of problem persists in the way. 
There are plenty of varieties available in GITS ready-to-eat products, the ones listed on Buniyaa that are available online in the USA are:-
GITS Rose Falooda(Drink Mix)
GITS Rose Falooda(Drink Mix) is a perfect and delicious dessert for one to consume during summers. IT contains vermicelli, sweet basil and rose flavour mix. You will experience the authentic flavours of rose falooda that will be mouthwatering. It is going to be your forever favourite drink once you have it, your taste buds won't forget the taste. Find GITS rose Falooda online in the USA that tastes just like home. 
GITS Rava Dosa (Breakfast Mix)
GITS Rava Dosa (Breakfast Mix) is everyone's go-to dish as South Indian dishes have a different fan base. This breakfast mix is prepared from a brewed rice-lentil batter and fried brown to a pancake. It is healthy and the batter is made in a few minutes, rather than soaking for so long. Buy GITS Rava dosa online in the USA as it is loaded with not only the traditional South Indian taste but also protein and carbohydrates. 
GITS Rasmalai (Dessert Mix)
GITS Rasmalai (Dessert Mix) is one of the most lovable dishes of Indians, it originated in Bengal and is now a favourite amongst all. GITS Rasmalai is undeniably delicious and 100% vegetarian. It contains everything such as saffron, dry fruits, and milk powder, you just have to open it and cook it for a few minutes. 
GITS Punjabi Kadhi(Heat & Eat)
GITS Punjabi Kadhi(Heat & Eat) contains fried chickpea flour dumplings in gravy of yoghurt and chickpea flour. You just have to put the mix in a pan, cook it and it is ready to eat. There are no added preservatives and no added MSG.
GITS Paneer Tikka Masala (Heat & Eat)
GITS Paneer Tikka Masala (Heat & Eat) is the most consumed dish of Indians. People living in the USA miss the feeling of being at home, but they won't miss the taste of home now because the GITS ready-to-eat products available online in the USA on Buiyaa will no longer let them miss the Indian taste. Buy your favourite Paneer Tikka Masala and many more Indian cuisines on our platform. 
GITS Pakora Instant ( Snack Mix)
GITS Pakora Instant ( Snack Mix) is the most popular Indian snack made of batter-coated vegetables and deep-fried. Whenever it rains everyone's craving for pakora increases, even more, you will no longer have to cut vegetables, dip them into the batter and fry them. You will have your pakoras in a few minutes now. Buy GITS Pakora Instant mix and have endless taste in every bite of crispy pakoras.
Conclusion
These are just a few products, but you will find plenty of GITS ready-to-eat food varieties, once you visit our website. No more longing for Indian taste because people living in the USA, can now have the taste of Indian food and bid adieu to homesickness.