The Refreshing Drinks of Amul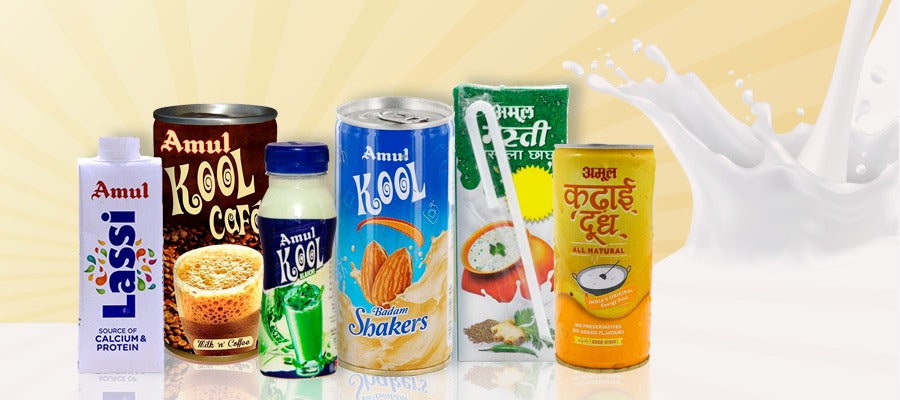 You are working every day and you can't consult a dietitian or nutritionist to know the diet of each day. That's why you search for easy, time-saving and healthy drinks that are full of nutritional values yet budget-friendly. Also, there are different sorts of snacks and drinks available in the market that attract children towards them and lead them towards an unhealthy lifestyle that stresses parents out. Sometimes, the guests arrive and we get confused about what to give them, so we bring just anything and serve them, unaware of the effects it could cause on their health. Are you also stressed about these things and looking for something healthy yet tasty for yourself and your kids too. Then, don't worry cause WE GOT YOU! People are often ignoring the products which are good for their health in every way and go for the products which are not nutrient-dense but only contain taste. Moreover, why would someone rush to the marketplace from one grocery shop to another when they can get everything of their own choice at one place. So, to know about it read this blog because it is not only tasteful but fruitful to you too in all ways because it mainly concerns your health. Let's learn about the tasty yet healthy drinks of one of the biggest brands of the world namedamul
AMUL
Amul is an Indian dairy cooperative company that is managed by the Gujarat Cooperative Milk Marketing Federation Limited. AMUL stands for Anand Milk Union LimitedIt has emerged as the biggest multinational company and has a renowned identity in India and all over the world. Amul has a great consistency in its innovative approach to marketing, products etc. Its products are loved all over the world because it focuses on the diversification of its products to cater for the needs of each section of society. Amul is the company that brought White Revolution to India which is its greatest achievement. This helped the company build trustworthy relationships with its customers all over the world. Amul manufactures a variety of products such as Milk, Butter, Bread spreads, Ice cream, refreshing drinks, Cheese, sauce etc. They are made nutrient-dense and vitamins rich products that are good for health and all the more tasty. There are a wide number of companies that are competing with Amul to beat it but one can give this brand the same competition due to its large hygiene rate and the healthy ingredients rate it carries along. It is not always easy to have everything on a plate but Amul has it because it understands the needs of society and also wants to provide nothing but the best so people can stay healthy. This is the company which was at first sceptical about its success but now today Amul is one of the biggest brands of India. 
Amul Drinks
There are many drinks that Amul manufactures and each of them is healthy and tasty in its way. They are flavoured and possess nutritional values and can be grabbed anytime. It would taste like the fresh one because of its A1 quality and hygiene factors.  
How much Amul Drink is too much? You can never get enough of it because they are one of a kind and have great consistency and nutrients and taste rich beverages. These drinks are good in every way, easy to serve, ready to drink and most of all it does not harm anyone's health. The delicacies these drinks bring along with the benefits are supreme in all ways. We all know that to lead a healthy lifestyle, a balanced diet is important and a diet is said to be balanced only when you have protein, calcium, iron, multivitamins, etc in your diet. If Amul solid products are tasty, then the drinks they manufacture are not less. There are so many kinds of drinks such as Amul Chaas, Amul Badam Shake, Amul Kesar Shake, Amul Kool Koko, Amul Kadhai Milk etc.  They produce drinks with good quality protein, carbohydrates and calcium that are mandatory for the growth and development of the human body. Parents would never regret buying their children these products because of the benefits of their premium quality. 
Amul chaas is a refreshing drink made under hygienic conditions and tastes just like homemade chaas or even better than that. It is a very tasty and refreshing way to kick the summer out and feel the chills in the summers in the healthiest way. It is made by mixing milk solids, common salt, and spices together that calm your taste buds. Drinking this product provides a rich source of calcium, carbohydrates etc. It comes in different packings and is worth buying. Amul Chaas is best for kids as it keeps the gut clean and free of any bacteria.
It is refreshing flavoured milk that comes in different flavours such as Kesar, Elaichi, Rose, Badam, etc. They are available in easy to use bottles. This drink is purified which makes it 100% safe for consumption. It contains ingredients like Sterilised homogenised flavours, milk solids, sugar, coffee, etc. It contains calcium, protein, vitamins, carbohydrates, etc and they all are needed for maintaining the health of the body. Amul Badam Shake and Amul  are the most bought drinks. 
It is the tastiest caramelised milk with natural ingredients. This product contains no preservatives or added flavours. It contains the goodness of milk and is a nutrient-rich product. This is because it contains multivitamins, carbohydrates, calcium, etc. It is free of any Bacteria and is easy to use. 
If you want to buy Amul Refreshing Drinks then visit our website Buniyaa.com.
Buniyaa is an E-commerce family-owned business that provides you with Indian delicacies which are not only tasty yet healthy too. It lifts off the responsibility to go out and shop for groceries every weekend by bringing everything for you on their website at the best prices and offers. You do not have to because we are always at your service. You can buyamul products online on our site. We will take care of everything, be it your taste, your budget, or your health. We sell genuine products and provide safe paying methods.