5 Reasons for Buying Patanjali products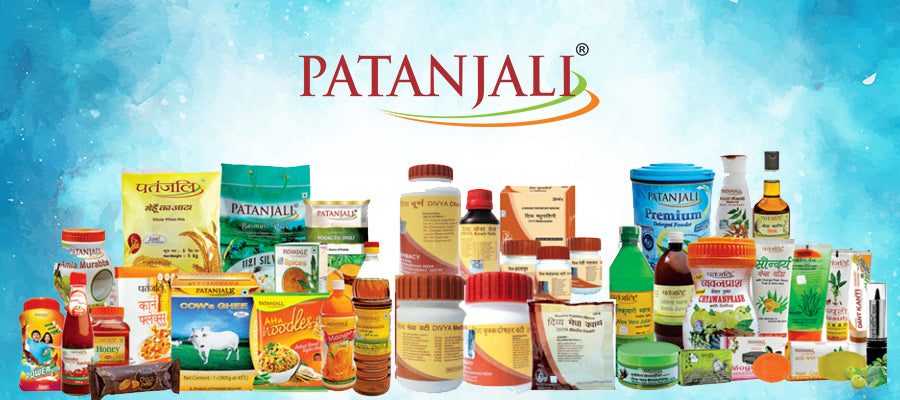 I know you all must have heard the name of this brand and you must be wanting to know more about the products it sells due to its increasing demand in the whole nation. Every house in India has at least one of the products from Patanjali. Patanjali products have gained so much popularity among people and it is now the most trusted ayurvedic brand in India. If you are still unsure about buying products and looking for more information about Patanjali products then this blog is for you. In this blog, you will get detailed information about the company and the kind of products they sell. Also, you will know the reliable site to buy Patanjali products online.  
About the Brand
Patanjali is a famous ayurvedic brand founded by Baba Ramdev and Acharaya Balkrishna in 2006 with the established brand name Patanjali Ayurved Limited. It has become the fastest growing FMCG company over the years and gained so much popularity. Acharya Balkrishna is the CEO of the company and has 94 per cent holding of the company in his hands. Acharya Balkrishna was declared India's 48th richest person in 2016. The headquarter of the company is situated in Haridwar, India. More than 300 products are manufactured by the company and supplied throughout India. The products contain everything ranging from household groceries to personal and healthcare products. Patanjali was established to promote Ayurveda. It proved that not only chemical substances or medicines synthesised in laboratories can play wonders but Ayurveda can too. It started with a small establishment but now Patanjali has become a widely and globally accepted brand. Baba Ramdev opened so many other Patanjali branches consisting of Patanjali Ayurvedic college, Patanjali hospital, Patanjali Herbal Botanical Garden, Patanjali agricultural farms, Patanjali Food and Herbal park etc. All these outlets and branches are not only adding to the growth of the economy of the country but also enhancing the health of people. With the introduction of Patanjali people learnt the importance of nature and are now seeking to save nature because the products have proven to be effective in almost all the problems completely. Million people are now following Patanjali and it has also promoted yoga amongst people. Patanjali has got recognition in India and even outside India. After which the Patanjali was honoured with many prestigious awards such as Spirit and Entrepreneurship Award in 2011, Sanskrit Pracharini Sabha and Manav Ratna Award in 2011 and Bharat Gaurav Award in 2016. After getting recognition and fame in Indian society the Patanjali was promoted outside the boundaries of the country and now so many people follow Patanjali and there are well-established yoga centres of Patanjali outside India also. Patanjali has now become a business empire of 5000 crores which is a great achievement in itself. People have turned from chemical to ayurvedic products be it cosmetics, household items or healthcare stuff. 
Where should you buy Patanjali products from?
There are thousands of Patanjali outlets available in the nation where you can go and buy products from. Due to immense success and high demand for the Patanjali products people are owning its franchise. But there are still many places where the Patanjali outlets are unavailable or there are people who are working and do not have time to go to the shop in person and buy the products themselves. This is why people prefer to shop the products online. Buniyaa is a family-owned e-commerce business website that provides you with the required products at the best available prices and does not even compromise the quality. This site is reliable and also promises in-time deliveries without any problem. You can buy Patanjali products online from this website without any second thought because of the easy return policy and safe payment methods. If you are searching for a website where you can get all the Patanjali products from in one then you need to visit Buniyaa.com. They understand the needs of the customer and sell authorised products. They have all the Patanjali products such as Patanjali herbal toothpaste, Patanjali mustard oil, Patanjali noodles, Patanjali honey, Patanjali herbal hand wash, Patanjali soaps, Patanjali shampoos, Patanjali juices, etc. So, do not wait for any more before buying the products online, go to the website and shop the products. 
Reasons for buying Patanjali products
Patanjali products have the best quality as they are made by using natural resources. There is no chance of being sceptical about the quality because there are no added preservatives or artificial products which are completely safe to use. They contain no harsh chemicals and have no side effects.  

Patanjali products are affordable to everyone because of the reasonable prices it has. No company provides such good quality products at such affordable prices which is a good thing. Having reasonable prices means the products are accessible to all classes of people. 

Patanjali understood the needs of their target audience and manufactured the products by keeping in view the societal trends and the problems needed to target. The products when made available by understanding the necessities create a bond between the company and its customer.

Patanjali products have proven to be 100 percent effective in treating all health and skin related problems. People who use Patanjali products have stopped using any other product because of its authenticity. Patanjali brought healthiness into the food items by combining the taste with nutrition which makes it the king of FMCG products.

Patanjali has built trust with the people of the nation and outside the nation over the years which is the most important factor people look upon while making any purchase. It is trusted and widely loved because of its standardised products and marked quality. 
These reasons are enough for one to make their purchase from Patanjali. If you are looking for genuine and superior quality products with reasonable tastes and no side effects then Patanjali products are a bumper for you.